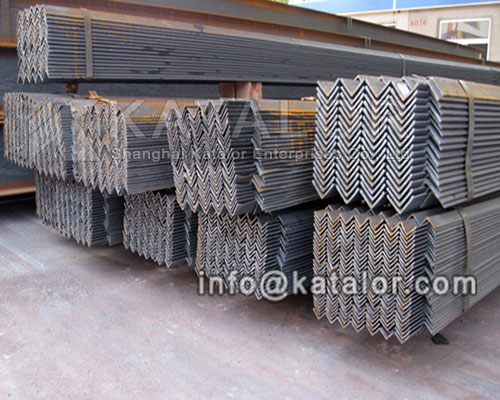 High strength low alloy steel ASTM A709 Grade HPS 70W owned the minimum yield strength at 485 Mpa and tensile strength between 585Mpa and 760Mpa.So ASTM A709/ A709M standard specification for structural steel for bridges. Shanghai katalor is specialized in supplying angle steel in A709 Grade HPS 70W.
A 709 Gr.hps70w angle steel requests killed or semi-killed in manufacture. ASTM A709 Grade HPS70W Low alloy angle steels are used to manufacture the plants of factory ,bridge, the common constructure and construction machinery and equipment. ASTM A709 Grade HPS 70W's higher strength level should result in lighter superstructures and the use of shallower girders that may permit bridge designers to reuse the existing substructure elements.
A709 Grade HPS 70W/485W Chemical Composition
Grade

C %

Mn %

P %

S %

Si %

Ni %

A709 Grade HPS 70W

≤0.11

1.1~1.5

≤0.02

≤0.006

0.3-0.50

0.25-0.4

Cr %

Cu %

V %

Mo %

Al %

N %

0.45-0.7

0.25-0.4

0.04-0.08

0.02-0.08

0.01-0.04

≤0.015
A709 Grade HPS 70W/485W Mechanical Property
Grade

Thickness(mm)

MinYield(Mpa)

Tensile(MPa)

elongation

elongation

HPS 70W/485W

≤100mm

Min 485Mpa

585-760Mpa

Steel plate and steel

Steel plate and steel

Steel plate and steel

The min impact energy is longitudinal energy
we keeps more than 1,000 tons A709 Grade HPS 70W angle steel in stock each month. We can meet our customer's any quantity request. We also have a high quality logistics team who make sure the fast delivery time and shipment. Over thousand tons of HPS 70W angle steel we supplied has been used in bridge fabrication, if you need ASTM A709 Grade HPS70W angle steel or other kinds of form, please contact us by email [email protected], we will reply you as soon as possible !